UEFA's decision on April 19, 2021 approved a new format for the Champions League. It was found that the old system based on 8 groups with 4 teams is not attractive anymore and it is time to change it. But why should we wait until 2024 with changes? It is a very long period of time, up to 3 years, as many as 3 editions of games with the old criticized system of group games. For the introduction of the new format of the game, such large changes are not necessary. There is no need to increase the number of teams to 36, it could as well be 32 teams as it is now. Games in one group can be introduced immediately!!!
Why should we wait?
One common table of matches, 32 teams and only 15 match rounds, which is only 2 more rounds than now!!! Finding two additional dates of CL games shouldn't be such a big problem. In the case of changes proposed from 2024, there will be as many as 19 match rounds, which is as much as 6 more than now.
In 15 match queues we have 8 games in a group with 8 different opponents, 4 games at home and 4 games away, including 1/8, 1/4, 1/2 and the final!!!
How to organize the games?
32 teams should be divided into 4 pots (1, 2, 3, 4) according to ranking. Each pot will contain 8 teams - 4 pairs. Additionally, the teams are divided into 4 virtual game groups.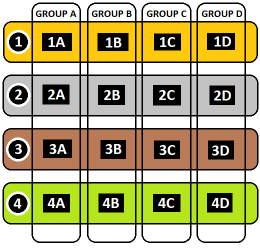 We get 16 pairs of teams. The match schedule is as follows.

Each pair of teams in a virtual group plays against a pair of teams from a different virtual group and each time it is a pair from a different pot. This way, each team will play 2 matches against teams from each pot (1, 2, 3, 4) and simultaneously 2 matches against teams from each group (A, B, C, D). Total 8 matches.
Note that teams pairs :
1A, 2A, 3B, 4B
1B, 2B, 3C, 4C
1C, 2C, 3D, 4D
1D, 2D, 3A, 4A
will not play matches with each other. Here it will facilitate the placement of teams from one football federation. Thanks to this, teams from one federation will not play against each other in the group stage!
We divide pairs of teams into individual teams.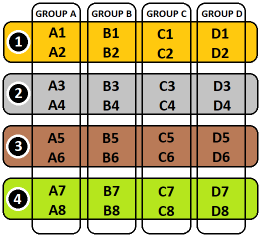 we get the following match schedule.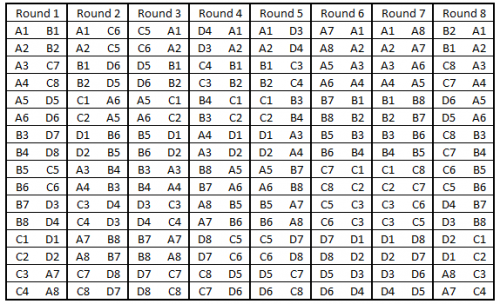 We keep one table for all teams. At the end of the tournament, the top 16 teams reach the 1/8 finals. Games are played according to the rules 1-16, 2-15, 3-14, etc.
So we have the same advantages for which changes are introduced from 2024. One table, which is to ensure the fight for promotion to the last match queue. The goal is to be as high as possible in the table to have an easier opponent in the knock-out phase. Lots of matches between strong teams.
According to the regulations, teams from places 17-24 will go to the Europa League.
Just enough and enough to move away from boring games in 8 groups for games in one group!
Eight group stage matches with eight different opponents, 8-10 matches between the best teams in each match queue, one table and only 15 match queues.

Is it worth the wait until 2024?
J.S.